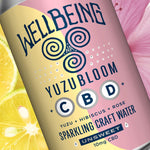 We wanted to let you know that we've just launched our CBD sparkling waters and are now shipping far and wide. A good thing to drink during these very strange times.
Our wonderful team has put in a considerable amount of time to curate two distinct botanical flavors and then sourced the finest broad spectrum CBD hemp extract to blend in them.
The flavors? Watermelon Lemongrass and Yuzu Bloom. Both are delicious and complex. They are "Unsweet" if you will.  Dry, botanical, refreshing and very adult. Please let us know what you think.
The Stats: Zero Sugar, Zero Calories, Gluten Free, Vegan.
10 MG per 12oz serving of Organic, All Natural Broad Spectrum Hemp.
WellBeing MelonGrass
MelonGrass is blended using the sweetness of watermelon
with the herbal citrus hints of lemongrass, to create a refreshing and clean taste.
WellBeing YuzuBloom
YuzuBloom is blended using the tart lemon-grapefruit taste of yuzu and the floral notes of rose and hibiscus, to create a nostalgic "candy like" experience.
Thank you again for your tremendous support, please stay safe and #raisewellbeing.