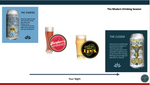 Drinkers are mixing WellBeing NA beer into their alcohol sessions and being well rewarded! 
We are constantly hearing from all kinds of drinkers from all kinds of places who have discovered our beers, the above is what a Modern Drinking Session looks like.
Tip one: The first beer always goes down the easiest, so start out with our delicious IPA. This elongates the drinking session in the smoothest possible way. 
Tip two: Make sure the last beer is one that helps prevent a hangover. Our WellBeing Victory Wheat has more electrolytes than Gatorade and is scientifically designed to hydrate you. And hydration is the key to not being hungover.
So not only is WellBeing delicious, but it's incredibly functional by extending your night and preventing hangovers!